Clearcutting the Climate conference
ForestClimate.org is an archive of "Clearcutting the Climate," a conference held in Eugene, Oregon in January 2008 co-organized by Josh Schlossberg, Shannon Wilson, Samantha Chirillo, and Mark Robinowitz. We brought together forest scientists and climate experts to highlight the climatic impacts of deforestation.
Slowing climate change would need to include bans on clearcutting and allowing tree plantations to grow back into forests. Deforestation disrupts rainfall patterns that are a key factor in the greenhouse effect.
Clearcutting the Climate videos (partial list)
graphics from Professor Olga Krankina showing carbon storage in Douglas Fir forest after a clearcut. Even long rotation forestry cannot capture the original forest's carbon storage. Rotting stumps emit stored carbon for decades after logging in greater levels than the regrowth can absorb. Tree plantations also store much less carbon in the soil than old growth.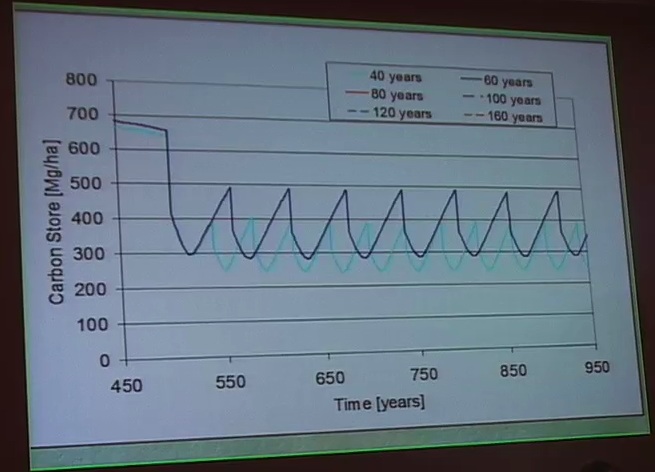 The first graphic shows carbon storage for an individual forest plot, the graphic below shows the carbon storage on a landscape level (many cuts averaged together). Forty year rotation clearcuts store less than half the carbon of old growth. Even hundred year rotations (rarely done by timber companies) store much less carbon than the original forest.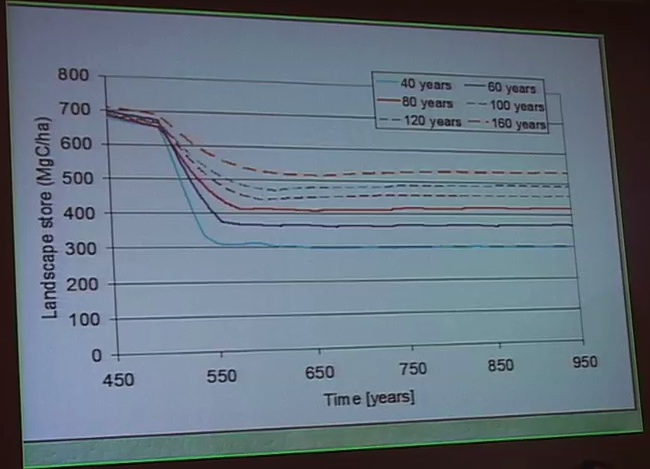 Biofuels and Deforestation
Biofuel production plans threaten to worsen the climate crisis. Large scale biomass proposals would require enormous amounts of forests to be consumed.
The timber industry is promoting forest biofuels as a green and renewable fuel source for electricity. Electric utilities like burning trees because they are baseload power that can augment naturally variable solar panels and wind turbines. Privately, many utilities probably know that the concentrated fuel sources for the power grid are near or at their "peaks."
US conventional natural gas peaked in 1973 and has been in sharp decline since 2005.
Fracking is now 40% of US natural gas but several fracking regions have already peaked. The Marcellus Shale in Pennsylvania is the "Saudi Arabia" of fracked gas, almost half of fracked gas is fracked in there.
Coal peaked in the US in 1999 and peaked in Pennsylvania in 1920.
US nuclear power generation peaked in 2008 but peak domestic uranium mining was 1980.
US electricity use peaked in 2007, the same year that all energy use peaked, car traffic peaked and domestic airplanes peaked.
Oil is not used much for electricity generation in the US, but its domestic production / extraction was 1970. Fracking for oil in Texas and North Dakota has created a second, smaller peak in US oil production. One of the most obvious manifestions of Peak Oil is the shifting toward "extreme" oil extraction, scraping of the bottom of the barrel. Canadian tar sands, fracked oil, deep water and North Alaska drilling have replaced the earlier, easier to extract conventional oil.
There are research efforts underway to convert trees into liquid fuels for internal combustion engines. A crude version of this was done in Nazi Germany to offset their lack of domestic oil reserves (which saved what oil they had for their war machine).
Forest Solutions
selective forestry that maintains canopies provides more board feet in the long run
cooperatives instead of limited liability corporations to manage and restore tree farms back to forests
demand reduction for wood and paper products
shifting away from endless growth models toward steady state economics for a round, finite planet
beyond "Wilderness" - convert National Forests into National Parks and create a new Civilian Conservation Corps
mycoremediation: don't burn slash piles, use mushrooms to convert brush piles to soil
Mark Robinowitz
ForestClimate.org
2008-2015